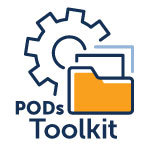 Welcome to the POD (Point of Dispensing) Toolkit! This is a one-stop shop for all things POD. The tools are categorized into the expandable menus below for easy access. Each drawer contains a summary of what to expect in each category.


New to PODs? Start with POD Basics with high-level introductions and basic training resources. 
New to PODs Resources
Not sure what a POD is? These resources will get you up to speed on what PODs are designed to do, how they function when activated, and will allow you to understand key concepts that may be discussed at a training event or activation.
Job Action Sheets (JAS) outline specific roles in the POD and provide a simplified bullet list of procedures for checking in/out of a POD along with expected duties during service. If planning to attend a POD exercise or activation, please print and bring these for your reference.
Job Action Sheets (Word Document)
Want to get connected to alerts for the POD or drum up volunteers in your community? This section contains volunteer recruitment letters, guides, strategies & tools for creating public awareness, and links to register with SERV SD, the SD Health Alert Network (HAN) to receive updates about POD activities, and more. All POD volunteers should register with SERV SD and the HAN for effective communication during an emergency.
Templates
Posters