Hearing loss is more common than any other condition screened for at birth. As many as 3 to 4 out of every 1,000 babies in the United States are born with some level of hearing loss. Based on that estimate, 33 to 44 babies are born with hearing loss in South Dakota each year.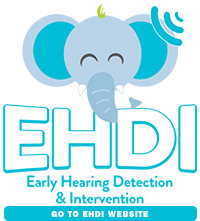 The Department of Health Newborn Hearing Screening Program recommends that:
All babies be screened by 1 month of age, preferably before leaving the hospital,
If after 2 screenings the baby does not pass, a medical and hearing evaluation is needed before 3 months, and
Once hearing loss is detected, services and intervention should be started by 6 months of age.
This 1-3-6 guideline was developed to give the baby the best possible time frame to be screened, diagnosed, and treated, if necessary. The earlier a baby is determined to have a hearing loss and begins receiving services, the more likely that speech, language, and social skills will reach their full potential.
See the link below for a roadmap of the newborn hearing screening, diagnosis, and intervention process. http://www.infanthearing.org/documents/ParentRoadmap.pdf (NCHAM)
The following videos were produced by the South Dakota Early Hearing Detection and Intervention Collaborative
Early Hearing Detection Intervention - English Early Hearing Detection Intervention - Spanish EHDI Lakota
Materials & Forms