The Title X (ten) Family Planning program is critical to providing and maintaining access to services for people with low and no incomes and people who are un- or under-insured. Services are provided to anyone capable of reproduction, regardless of age, sex, religion, race, color, national origin, creed, disability, number of pregnancies, marital status, income, or insurance.
About the Program
Family Planning offers a broad range of services related to achieving pregnancy, preventing pregnancy, and assisting women, men, and couples with achieving their desired number and spacing of children. Family Planning Clinics provide a judgment-free space to discuss sensitive topics with trained clinic staff. The opportunity for confidential care encourages everyone to build relationships with clinicians early, and foster communication, confidence, and advocacy skills. Family Planning services meet people where they are.
Family Planning Clinics offers a sliding fee scale for services. Fees are based on family size and income. At your first appointment, you will be asked to provide proof of your current income. Your most recent 1040 tax form or paycheck stub can serve as proof of income. For a list of what counts as income, visit RHNTC: Defining Family Income for Title X Charges, Billing, and Collections.
No one is denied services based on their inability to pay.
SD Title X Program Outcomes, All Sites, 2022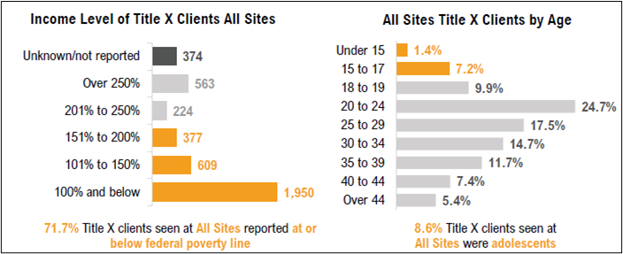 2022 client reach in South Dakota based on income level and age. 
Family Planning Services
Full range of contraceptive methods, including, but not limited to: oral birth control, injectables, IUDs, patches, etc.
Client education and counseling
Physical exams for all genders
Pregnancy testing counseling and referrals
Basic infertility services
Screening for breast and cervical cancer and other health issues
Follow-up and referrals for social and medical issues
Note: Depending on where you go for reproductive health care, you may be referred to another location that can complete your care (i.e. inserting IUDs).
Informational Flyers
Reproductive Health Visits        Menstruation Basics        Irregular Menstruation
Family Planning Clinics
To schedule an appointment, contact your nearest Title X clinic: 
What Others Are Saying
"My experience at this clinic was delightful. I wasn't sure where to go to have health services and was recommended here and will never go anywhere else!" - Horizon Healthcare Aberdeen Community Health Center
"The Doctor and all the staff were wonderful." - Community Health Center of the Black Hills (Rapid City)
"I love the easy access to birth control and services." - Horizon Healthcare James Valley Community Health Center (Huron)
"Just say that they are very good at their job and are nice/caring!" - Community Health Center of the Black Hills (Rapid City) 
Frequently Asked Questions
Appointments at a Title X Clinic allow for more time with healthcare providers. Staff are trained to educate on a variety of topics with a direct focus on reproductive health. Conversations are patient-driven and patients are allowed a safe space to discuss sensitive topics. 
Yes. Title X clinics use a sliding fee scale to lower costs. The sliding fee scale uses your household income as a guideline for the amount due. The sliding scale is possible due to federal funding.
Any client may request enhanced confidentiality for any Title X service. This means the clinic will not send a bill for services, and no explanation of benefits, agency patient portals, or agency billing will be sent out. 
No. The Title X Program is designed to meet the needs of those who are trying to achieve or prevent pregnancies along with offering other health care services. Staff will provide you with the resources necessary to achieve a healthy pregnancy, if desired, and will be able to refer you to an appropriate OB/GYN provider with a positive pregnancy test.
Title X offers enhanced confidentiality which means you can have a confidential health care visit without needing consent. However, we do encourage young people to involve their parents or a trusted adult in health care decisions.