The newborn screening specimen collection card is a legal record; the submitter is legally responsible for the accuracy and completion of all information.
Inaccurate or missing information may affect the accuracy of the screening results and/or the ability to quickly notify the infant's care provider in the event of abnormal screening results. ANY DELAY PUTS THE INFANT'S HEALTH AT RISK.
Every data field on the specimen collection card must be filled out completely, accurately and LEGIBLY before collecting the specimen. All requested information is vital to ensuring proper testing, and timely follow-up of repeat or confirmatory testing. Collection card information is essential to the infant match between the contract newborn screening laboratory report, the State Hygienic Laboratory at the University of Iowa (SHL), and the South Dakota Department of Health Electronic Vital Records and Screening System (EVRSS).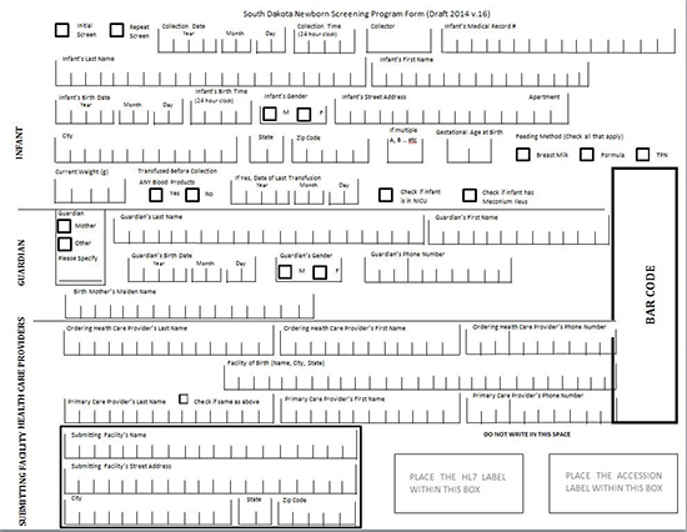 Complete all data fields to avoid having specimen rejected or test results withheld;
Use a ballpoint pen, as soft-tip pens will not copy through to the carbon copies;
Use blue or black ink and stay within the limits of the designated boxes;
Avoid touching the filter paper before, during, and after collection. Oils and other substances on hands can contaminate the card or the specimen itself;
Water, infant formulas, antiseptic solutions, glove powder, hand lotion, and other materials should not come in contact with the newborn screening card at any time through the screening process;
Do not apply stickers/labels or write in the lower right side of the card in the area that says "For SHL Use Only", as it makes logging and tracking specimens in the lab very difficult;
Remove the 2nd ply for your facilities records; this copy is for the submitter;
Do not use adhesive tape;
Pre-printed labels supplied by SHL – verify the information is correct for your facility;
Do not share collection card supplies with other facilities. This will cause a disruption/delay with the appropriate notification of the newborn screening laboratory results.
Discard any expired or damaged collection cards. Specimen will be deemed "poor quality" if the collection card has expired.