COVID-19 information and resources for the public on precautions to avoid illness, vaccines, symptoms, testing, treatments, and therapeutics.
Precautions to Avoid Illness
Treatments and Therapeutics
The COVID-19 Test To Treat Initiative quickly connects eligible individuals who are at high risk of getting very sick from COVID-19 to appropriate treatments.
Evusheld is an investigational medicine that can help protect you from getting COVID-19. You may be eligible for Evusheld if you:

Are moderately or severely immunocompromised and may not mount an adequate immune response to COVID-19 vaccination OR have a history of severe allergic reactions to COVID-19 vaccines, and
Do not currently have COVID-19 and have not recently had close contact with someone with COVID-19, and
Are an adult or adolescent ages 12 years and older weighing at least 88 pounds (40 kg).

Treatment Locator (HHS)
The U.S. Food and Drug Administration issued an Emergency Use Authorization to allow the use of monoclonal antibodies for the treatment of mild to moderate symptoms of COVID-19 in adults and pediatric patients.
View the South Dakota Monoclonal Antibody Treatment flyer
What are monoclonal antibodies? Monoclonal antibodies are laboratory-made proteins that mimic the antibodies created by your immune system to fight off harmful viruses. Bamlanivimab + etesevimab and casirivimab + imdevimab are monoclonal antibodies that are specifically designed to protect against severe COVID-19 infection. The antibodies bind to the spike protein of the COVID-19 virus to stop the virus from entering your cells and continuing the infection.
Who can get this treatment? Antibody treatment can be used by people with mild to moderate COVID-19 who:

Test positive for SARS-CoV-2;
Are within 10 days of the start of their symptoms;
Are age 12 or older and weigh at least 88 pounds; and
Are at high risk of progressing to severe COVID-19 infection or of needing to be admitted to a hospital because of COVID-19. Examples of chronic medical conditions include:

Chronic kidney disease
Diabetes
Immunosuppressive disease
Currently receiving immunosuppressive treatment
Having a body mass index (BMI) greater than 25 (overweight or obese)
Pregnancy
Aged 65 years and older
Cardiovascular disease (including congenital heart disease) or hypertension
Chronic lung diseases (e.g., chronic obstructive pulmonary disease [COPD], asthma [moderate-to-severe], interstitial lung disease, cystic fibrosis, and pulmonary hypertension)
Sickle cell disease
Neurodevelopmental disorders (e.g., cerebral palsy) or other complex conditions (e.g., genetic or metabolic syndromes and severe congenital abnormalities)
Having a medical-related technological dependence (e.g, tracheostomy, gastrostomy, or positive pressure ventilation [not related to COVID-19])
Individuals who meet high-risk criteria and test positive should contact their primary care physician about a referral for antibody treatment within three days of a positive test result and no later than 10 days after symptom onset.
Treatment for COVID-19 is available in many parts of the state. Check with your healthcare provider about the use of monoclonal antibodies or an antiviral.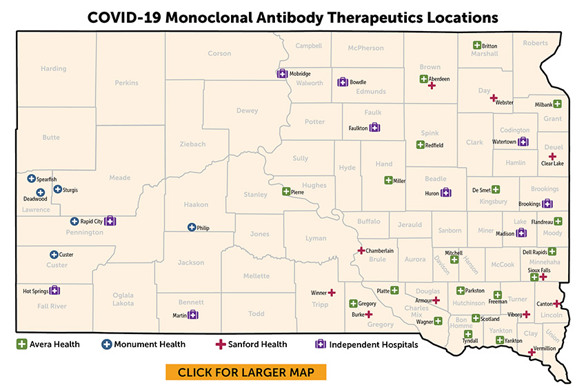 Avera Health

Avera St. Luke's Hospital - Aberdeen
Avera Dells Area Hospital - Dell Rapids
Avera De Smet Memorial Hospital - De Smet
Avera Flandreau Hospital - Flandreau
Freeman Regional Hospital - Freeman
Avera Gregory Hospital - Gregory
Avera Milbank Area Hospital - Milbank
Avera Hand Co. Memorial Hospital - Miller
Avera Queen of Peace Hospital - Mitchell
Avera St Benedict Hospital - Parkston
Avera St. Mary's Hospital - Pierre
Avera Platte Health Center - Platte
Community Memorial Hospital - Redfield
Avera Landmann-Jungman Memorial Hospital - Scotland
Avera St. Michael's Hospital -Tyndall
Avera Wagner Community Hospital - Wagner
Avera Sacred Heart Hospital - Yankton

Monument Health

Monument Health Custer Hospital - Custer
Monument Health Lead-Deadwood Hospital - Deadwood
Philip Health Services - Philip
Monument Health Rapid City Hospital - Rapid City
Monument Health Spearfish Hospital - Spearfish
Monument Health Sturgis Hospital - Sturgis

Sanford Health

Sanford Aberdeen Medical Center - Aberdeen
Douglas Co Memorial Hospital - Armour
Community Memorial Hospital - Burke
Sanford Canton-Inwood Medical Center - Canton
Sanford Chamberlain Medical Center - Chamberlain
Sanford Clear Lake Medical Center - Clear Lake
Sanford USD Medical Center - Sioux Falls
Sanford Vermillion Medical Center - Vermillion
Pioneer Memorial Hospital - Viborg
Sanford Webster Medical Center - Webster
Winner Regional Hospital - Winner

Independent Hospitals

Bowdle Hospital - Bowdle
Brookings Health System – Brookings
Faulkton Area Medical Center - Faulkton
Fall River Health Services - Hot Springs
Huron Regional Healthcare Center - Huron
Madison Community Hospital - Madison
Bennett Co Hospital - Martin
Mobridge Regional Hospital - Mobridge
Oyate Health Center - Rapid City
Prairie Lakes Healthcare System - Watertown