There are some things you can't UNDO. Prediabetes you CAN.
To see if you are at risk of developing diabetes and might have prediabetes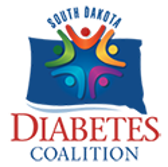 The South Dakota Diabetes Coalition is a volunteer-based non-profit that works to improve the quality of life for those at risk for or affected by, diabetes. The coalition includes people with diabetes, program coordinators, health care professionals, advocacy groups, government agencies, and more groups and people who strive to prevent diabetes and improve the health and education of those who it affects.
Learn more about the South Dakota Diabetes Coalition by visiting the website.