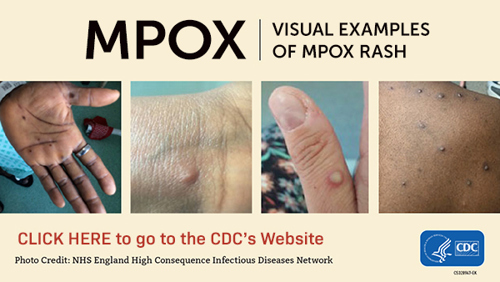 Mpox, formerly known as monkeypox, is a rare disease caused by an Orthopoxvirus. Persons with Mpox typically report having close, sustained physical contact with other people who have Mpox. In the recent global outbreak, persons primarily impacted were gay, bisexual, or other men who have sex with men. Anyone who has been in close contact with someone who has Mpox can get the illness. The risk to the general public is low.
---
Symptoms
Rash that looks like pimples or blisters that can occur in the mouth, genital and anal areas, or other parts of the face and body like the hands, feet, and chest.
Fever
Headache
Muscle and backaches
Chills
Exhaustion
Swollen Lymph Nodes
Case Counts
South Dakota 2023 Case Count: 0
South Dakota 2022 Case Count: 3
U.S. Case Count (CDC)
CDC Mpox Website: Mpox disease information: symptoms, transmission, and treatment.
Prevention
Take the following steps to prevent Mpox:
Avoid close skin-to-skin contact with people who have a rash that looks like Mpox
Do not handle or touch materials such as bedding, towels, or clothing of a person with Mpox
Wash your hands often with soap and water
CDC Resources