Department of Health's Lynne Valenti Honored with the 2023 State Official Award
FOR IMMEDIATE RELEASE: September 22, 2023
MEDIA CONTACT: Tia Kafka - DOHMedia@state.sd.us
Department of Health's Lynne Valenti Honored with the 2023 State Official Award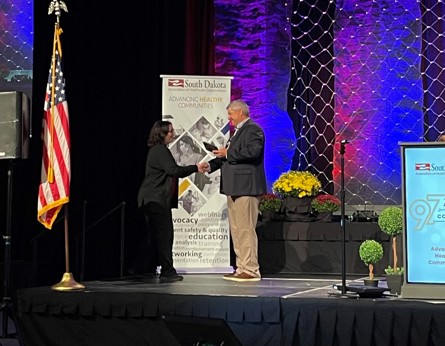 PIERRE, S.D. – The South Dakota Association of Healthcare Organizations (SDAHO) presented Lynne Valenti, Deputy Secretary and Director of the Division of Licensure and Accreditation at the South Dakota Department of Health (DOH), with the prestigious 2023 State Official Award on Sept. 21, 2023.


"We are so proud of Lynne and grateful to have her on the DOH team," said South Dakota Department of Health Secretary, Melissa Magstadt. "Her knowledge, skills, and years of experience are invaluable to this department, and I am thankful to see our healthcare system has also recognized her talents." 
The State Official Award recognizes individuals for their exceptional service to healthcare, commitment to high-quality care, and contributions to healthier communities. This award was nominated by our three largest health systems in the state. Valenti's remarkable career in public service, which includes key roles in state government and a focus on disability law, earned her this well-deserved honor.
Before joining the South Dakota Department of Health, Valenti held a series of influential roles within South Dakota state government, including serving as Secretary and Deputy Secretary of the Department of Social Services. Additionally, she served as General Counsel for the Bureau of Human Resources and acted as Legal Counsel for the Department of Human Services. Valenti's career prior to her tenure in state government was as an attorney dedicated and focused on disability law.
A graduate of the University of South Dakota and the New England School of Law, Valenti's educational background and dedication to healthcare have been instrumental in her ability to effect positive change within the industry.
The South Dakota Department of Health congratulates Valenti on this distinguished award, highlighting her leadership and advocacy for quality care and healthier communities.
At the heart of the Department of Health's mission is a simple yet profound goal: to protect and improve the health of all South Dakotans. The department is entrusted with the vital task of promoting wellness, preventing disease, and ensuring access to quality healthcare for all South Dakotans across our great state. 
##