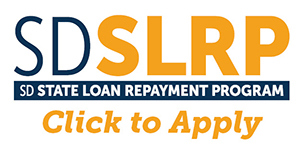 South Dakota's State Loan Repayment Program (SLRP) is for primary care providers, mental health providers, and dental health providers practicing in rural and urban Health Professional Shortage Areas in South Dakota. The purpose of South Dakota's State Loan Repayment Program (SD SLRP) is to improve access to primary care by assisting underserved communities with the recruitment and retention of primary care providers.
Current Cycle
Applications are reviewed and approved on a first-come, first-served basis.
The application period is now closed.
Eligibility Requirements
Clinicians must have a current, full, permanent, unrestricted health professional license, certificate, or registration (whichever is applicable) in South Dakota.
Primary Care Physicians (MD or DO)
Dentists
Dental Hygienists
Certified Nurse Midwives
Nurse Practitioners
Physician Assistants
Health Service Psychologists
Licensed Clinical Social Workers
Licensed Professional Counselors
Psychiatric Nurse Specialists
Marriage & Family Therapists
Registered Nurses
Pharmacists
Alcohol and Substance Abuse Counselors
Primary Care Physicians (MD or DO) includes:
Family Medicine, Internal Medicine, Pediatrics, Obstetrics/Gynecology, Geriatrics, and Psychiatry
Primary Care Specialties for Nurse Practitioners and Physicians Assistants include:
Adult, Family, Pediatrics, Psychiatry/mental health, Geriatrics, and Women's health
Private Practices (Solo or Group)
Centers for Medicare & Medicaid Services Certified Rural Health Clinics
Federally Qualified Health Centers (FQHC)

Community Health Centers
Migrant Health Centers
Homeless Programs
Public Housing Programs

FQHC Look-a-Likes
Other Types of Health Facilities

Community Outpatient Facilities
Community Mental Health Facilities
State and County Health Department Clinics
Immigration and Customs Enforcement Health Service Corps
Free Clinics
Mobile Units
School-based Programs
Critical Access Hospitals affiliated with a qualified outpatient clinic
State Mental Health Facilities

Indian Health Service Facilities and Programs

Federal Indian Health Service (IHS) Clinical Practice Sites
Tribal/638 Health Clinics
Urban Indian Health Programs
IHS and Tribal Hospitals

Correctional or Detention Facilities

Federal Prisons
State Prisons
The following provider work sites are Ineligible Work Site Types for SLRP. The following site types are not eligible to become SLRP NHSC-approved sites, even if they are in, or serve, a HPSA:
Inpatient Hospitals (EXCEPT for Medicare-approved CAHs and some IHS hospitals)
Clinics that limit care to veterans and active-duty military personnel (including Veterans Health Administration Medical Centers, Hospitals, and Clinics; military bases, and civilian health care providers in the TRICARE Network)
Other types of Inpatient Facilities and Inpatient Rehabilitation Programs
Residential Facilities
Local/County/City Correctional Facilities
Home-Based Health Care Settings of Patients or Clinicians
Specialty Clinics and/or service-specific sites limited by gender identity, organ system, illness, categorical population, or service (e.g., clinics that only provide STD/HIV/TB services).
SLRP is a highly competitive program with limited funding available.
Currently, long-term care/skilled nursing facilities are not eligible sites for the State Loan Repayment Program. Eligible sites were determined by the Health Resources & Services Administration (HRSA) notice of funding opportunity for this program. This does not preclude future allowance given the shifting landscape of healthcare.
Minimum Service Obligation
2 years (please note: service credit begins when the contract period starts)
Annual Repayment Amount
The SD SLRP provides funds for repayment of qualifying educational loans of up to $25,000 annually for a limited number of full-time primary care providers and up to $12,500 annually for half-time primary care providers. In return for the loan repayment award, participants must complete a two-year service obligation in nonprofit private or public sites located in federally designated Health Professional Shortage Areas (HPSAs).
See if you're in a designated Health Professional Shortage Area (HPSA)
Default or Breach of Contract Penalties
If a health professional signs a contract to participate in the State Loan Repayment Program and breaches their obligation, they will be responsible for repaying an amount equal to the sum of the following:
The amounts paid for any period not served;
The number of months not served, multiplied by $7,500; and
Interest on (1) and (2).
If the amount resulting from the above formula is less than $31,000, then the clinician owes $31,000. The clinician must pay the amount owed within one year of breach.
Resources
View a map of communities currently participating in the South Dakota Student Loan Repayment Program (SLRP).
W-9 Form for Taxpayer Identification Number (TIN) verification and certification.
This flyer contains a summary of the Student Loan Repayment Program and how to apply.
Program Administration and Funding
This program is administered by the Office of Rural Health, South Dakota Department of Health. Program eligibility requirements and benefits are established by federal law authorizing the State Loan Repayment Program.
Authority: Public Health Service Act, Title III, Section 3381
American Rescue Plan Act of 2021 (P.L. 117-2), Section 2602
Grant HRSA-22-048